History Teacher Profile – Hans Hiemstra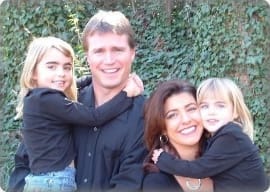 Hans Hiemstra has worked in many mediums. He began as a legislative assistant in D.C., became a lobbyist, and even coached soccer. At the end of the day though, he has never felt quite as fulfilled and satisfied as he does now after arriving home from teaching a class.
Today, as a 10th grade history teacher at East Chapel Hill High School in North Carolina, Hiemstra lives for the "ah ha" instants students experience in class.
"To see kids think things through, and try and think about something in a way they haven't before, or become a better writer – that to me is very fulfilling," Hiemstra said. "From a fulfillment standpoint, a bad day of teaching is better than a good day of lobbying."
During Hiemstra's time as a lobbyist, he coached soccer and realized how much he enjoyed working with kids and helping them tackle challenges. He enjoyed the sense of discovery and fun that came from working with kids, and soon enrolled in a teacher preparation program at George Mason University in Virginia.
Because he still had a job in D.C., Hiemstra attended school at night, eventually earning his master's degree in education and transitioning to teaching full time.
On his first day of teaching, Hiemstra wasn't sure how to feel about finally teaching his own classroom.
<!- mfunc feat_school ->
Featured Programs:
Sponsored School(s)
<!- /mfunc feat_school ->
"I was unbelievably nervous and scared to walk in the room, [because] it's actually my first class," Hiemstra said. "And I just remember the first day being really, really, nervous."
Hiemstra didn't let his nerves get to him though, and approached his first day of school as a professional. He says he put on his "game face" and prepared to teach.
"Much like school in general and college in general, it's one thing to learn the theories, but it's a different story when you're in in front of a classroom, and know all book theories, but have to manage a classroom at the same time," Hiemstra said.
Luckily, Hiemstra said his teacher preparation program focused heavily on providing students with classroom experience, observing actual teachers, and also centered on student teaching. Additionally, Hiemstra's teacher mentor was extremely helpful while he was adjusting to his new life as a teacher.
"I was really lucky because my mentor teacher was and still is amazing," Hiemstra said. "She really helped me by saying, 'Here's what the book says about classroom management and how to deal with kids, and here's how it really works.'"
Hiemstra believes that his mentor truly gave him a firm grasp on how to teach with kids in the class, and helped shape his first experiences as a teacher in a positive way, guiding his future teaching principles.
"As a new teacher, you want to try and do everything yourself, but I've found through the years that one of the ways that the kids learn more and make the job more manageable is to let the students do the work and you guide them," Hiemstra said. "Have them work in groups together, then you kind of go around and help them, and bring it all back to the whole class, and discuss things they're not sure of."
Hiemstra believes that letting students get hands-on and interested in history is the best way to teach them to become better learners. While he says some days he needs to lecture, his favorite way to teach is through debate and discussion, letting students explore history through group projects and field trips to bring history to life.
"I really like talking about the people…your common people, the politicians, the generals," Hiemstra said. "I love talking about the stories of the people. To me, history is about the stories of the different people, and how they interact – what they want, did they get it, or why didn't they get it."
With his former experience in Congress and around D.C., Hiemstra also relishes talking to his students about political events and presidential campaigns. During election years especially, Hiemstra and his students explore theories about political advertisements, propaganda techniques, and how debates drive public opinion about politicians.
"It's a lot of fun to talk about because it's pretty relevant to kids, because they say, 'Oh yeah, okay, I'm watching this political advertisement, and I understand why they're using the propaganda techniques they're using," Hiemstra said.
Hiemstra also uses these moments to create fun and engaging projects for his students, where they apply what they've learned in class in an entertaining and informative way. For example, Hiemstra's students are currently busy at work creating their own campaign commercials by using the different propaganda techniques they've learned about in class.
When designing his lectures and projects, Hiemstra thinks of essential questions or outcomes he wants his students to learn for that day. Mixing lecture and group discussion are key for successful learning, Hiemstra says.
"I like to do smaller formative assessments as often as I can, so at the end of the class, I'll say 'Alright, what are some of the main things you learned today, and what are some of the things you have questions about?'" Hiemstra said. "That way, I get feedback about what they know and what I need to hit on again."
This way, Hiemstra stays on top of where his students are on the subject material, instead of waiting to see which students fail a quiz or test at the end of the semester.
Taking into account all of the content knowledge, theory, and understanding potential teachers must learn before becoming educators themselves, Hiemstra believes one thing is most important to have.
"If you want to teach and if you really want to be a good teacher, you've really got to love kids and love working with young adults who are trying to figure out what they want to do with their lives," Hiemstra said. "You have to have that focus otherwise I don't think it'll work out very well."