Physical Education Teacher Certification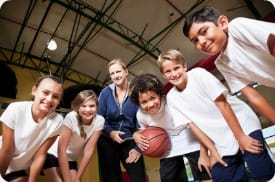 The skills required to effectively teach physical education are often taken for granted. Ask anyone outside the education profession what subject is easiest to teach, and they'll likely reply, "P.E.". However, effective physical education teachers know better. Their studies of health, anatomy, physiology, and biomechanics are no small matter, but in fact important tools in developing movement experiences and training activities that promote healthy development in students.
Similarly, students who excel in P.E. classes are often stereotyped as "dumb jocks." Yet in reality, high achievement in physical education classes actually correlates with high academic achievement as well. Success in one area can boost confidence and drive success in another; and healthy bodies promote the development of healthy minds.
What is certification?
<!- mfunc feat_school ->
Featured Programs:
Sponsored School(s)
<!- /mfunc feat_school ->
Certification establishes that physical education teachers have completed a minimum standard of education and preparation in order to effectively teach their subject, so that schools can hire capable professionals. The certification system promotes the educational aspect of physical training at school, and ensures that schools have physical education teachers who are truly educators, instead of merely classroom facilitators who time laps and watch the students play team sports.
Why physical education is important?
Physical Education Units
You can expect the most common sports to be taught in PE; but many other activities can be included in the course of the year as well—if the PE teacher has the capability:
Archery
Self Defense
Weight Training
Tumbling / Gymnastics
Folk Dance
Physical education classes serve several roles in students' education. First, they encourage good health and physical development, improving motor skills, hand-eye coordination, and cardiovascular endurance. Second, they promote the development of positive social skills—particularly in regards to teamwork. Third, they provide a break from the desk routine, in which students may work out tension and stress, and recharge for the day. Physical activity actually increases mental alertness, so students can be more focused and on-task in their academic classes.
The health aspect of physical education is of particular importance today. With more recreational activities being indoor and stationary than ever before, and with modern diets being higher-calorie than ever before, regular physical activity throughout the week needs to be scheduled in order to maintain students' health. However, not all physical activity is equal in terms of health benefit; effective physical education can provide a schedule of activities that address multiple health needs for students' growth and development.
Obtaining certification
Becoming certified to teach physical education is similar to becoming certified as a teacher of any academic subject. The exact requirements vary from state to state; but typically teaching physical education at the middle- or high-school level requires a single subject teaching credential/license, involving the following:
Completion of a bachelor's degree with a major (or minor) in kinesiology or another related field
Completion of a teacher preparation program (usually following the bachelor's degree), including a period of supervised student teaching
Passing the state examination (commonly a Praxis II test)
Obtaining concomitant certifications, including:

First aid and CRP certification
Lifeguard certification (for teaching at a high school with a pool)
Sports therapy certification (if coaching team sports)
You can find more details about specific teaching certification requirements by selecting your state from the following webpage: Teaching Certification Requirements.
How your training prepares you to teach physical education
Your study of the human body will help you to guide children in developmentally appropriate physical activities. Exercises and games you select will develop both fine and gross motor skills, improve balance, and develop strength. Warm-ups and stretches you require will improve students' physical readiness for activity, and reduce the possibility of injury. And if students do get injured, you'll be able to assess and provide immediate assistance.
Typical Classes in a Physical Education Teacher's Preparation Program
Applied kinesiology and biomechanics
Physiology of exercise
Motor learning
Sociology of sport
Exercise and sport psychology
Assessment strategies in physical education
Movement experiences for children
Knowing what is developmentally appropriate for students in each grade level is important for encouraging healthy (and safe) development. Certain strength exercises, for example, are not helpful (and even harmful) for elementary-school children; and at the high-school level, you'll need to establish safety limits for your more reckless students (such as in the weight room).
A single-subject credential to teach at the middle- or high-school level will involve more in the way of movement anatomy and physiology than a multiple-subject elementary credential. This knowledge base will be important for assessing students' skills and needs, and for adapting activities to better suit particular situations or groups of students. Additionally, your expertise here will be of great use in encouraging students who are genuinely interested in learning about health and the human body. Middle schools have no "pre-med" program, but middle-school students may already be interested in that field, and will look to their physical education teacher for guidance.
Classes in your teacher preparation program will also include some psychology and sociology. Sports are, after all, a social event; and you'll need to be prepared for guiding students' socialization, and correcting harmful patterns (for example, when students reject someone because they fear that person's poor performance will make them lose a game). In addition, children's mental and emotional responses to sports and physical activity are different than their responses to classroom environments, so your training will include the psychology necessary to deal with their issues of stress, fear, lack of confidence, achievement motivation, self-concept, and self-evaluation.
Not all of a P.E. teacher's time is spent in the gym or on the field, however. For some units (such as when teaching about health concepts) you'll be in the classroom. Additionally, cross-curriculum goals at your school may have you incorporate writing assignments into physical education. Therefore, your teacher-preparation program will also train you to teach in a classroom setting.
How you'll impact your students and your school
The physical education teacher is often a leader in their school in promoting health goals, including in regards to nutrition, and in celebrating student success (for example, by encouraging elementary-school students toward achieving the President's Challenge physical fitness award). At the middle- and high-school levels, physical educators are commonly involved in coaching sports programs (for which they receive an additional stipend). Additionally, such teachers may have some responsibility for maintaining Title IX standards at their school, ensuring that both boys and girls have equal opportunities in athletic programs.
The scope of a school's physical education program is greatly impacted by the kind(s) of physical education teachers they hire. Programs such as archery, self-defense, and tumbling require P.E. teachers who are knowledgeable and willing to teach them—not to mention pro-active enough to get the necessary funds and equipment.
Finally, P.E. teachers are often informal counselors to students—particularly when girls' and boys' classes are separate. The distinct environment of a P.E. class provides special opportunities for students seeking advice and guidance regarding both physical and social issues. In such capacity, men and women of character are of utmost importance to the physical-education profession.