New Jersey Teaching Certification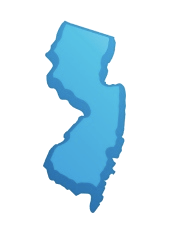 New Jersey Ed. Statistics
| | |
| --- | --- |
| Avg. Elem. Teacher Salary* | $71,880 |
| Avg. Sec. Teacher Salary* | $78,090 |
| Avg. Admin. Salary* | $129,990 |
| Teacher Retention (?) | 95% |
| Vacation Wks/Yr | 15 |
Learn how to become a teacher in New Jersey (or administrator). Choose the description of certification you are most interested in or situation that best describes you:
Getting Involved…
Investing in our future is vitally important and strangely difficult. In order to fight oppression from the greedy and power-hungry elite, to better our ways of life with advancing technology, and to increase our country's overall views toward the concept of acceptance, we need education to be a priority. Learn how you can be a spoke in this terribly important wheel. See how New Jersey measures up to the rest of the country by viewing the percentage of state revenue going toward education in each state. (see State Education Spending vs. Overall State Revenue).

Learn About Your Governor's Track Record

Give Your Knowledge Power By Voting
Hold your public servants accountable. It is our duty as residents of Alabama.
Help Make Education A Priority
Initial New Jersey Teaching Certification
According to the U.S. Department of Labor's Bureau of Labor Statistics (BLS), as of May 2010, the New Jersey school system offered kindergarten teachers and middle school teachers the fifth highest salary of all public school teachers in the nation. The 5,320 kindergarten teachers located in the state that year earned an average of $7,000 more than kindergarten teachers in other parts of the country. The 26,930 middle school teachers working in New Jersey as of May 2010 made an average of $9000 more than their counterparts in other states. The 38,110 secondary school teachers in New Jersey fared even better, with the fourth highest salary in the nation, which was about $12,000 higher than the national average for secondary school teachers. Find schools offering teaching certification programs in New Jersey.
Education Requirements
<!- mfunc feat_school ->
Featured Programs:
Sponsored School(s)
<!- /mfunc feat_school ->
The State of New Jersey Department of Education's Office of Certification and Credentials (877-900-6960) expects that as a candidate for teacher certification, you hold at least a bachelor's degree earned from a teacher preparation program within a New Jersey college or university or from any regionally accredited college or university. You must also maintain a cumulative GPA of at least 2.75 or 2.5, dependent on the particular program. Certain endorsements require additional coursework, as follows:
Elementary school endorsement – you must complete a liberal arts, science, dual content or interdisciplinary academic major; or at least 60 semester hour credits in liberal arts/science
Subject area endorsement – you must complete at least 30 semester hour credits in courses in your instructional area, with at least 12 semester hour credits at the advanced/graduate level
Did you graduate from a foreign college or university? The State of New Jersey Department of Education may still accept your credits. Your credits must be evaluated by a credentials evaluation agency. The Department does not recommend a specific evaluation agency, but rather suggests you locate one independently. The findings of this evaluation must be sent to the Department once completed. More information may be found here.
Certificate Options
New Jersey has a three-step certification process for new teachers:
Establish eligibility

Certificate of Eligibility (CE) – Issued if you have completed an academic degree program and meet all examination requirements for certification. Valid for your lifetime, the CE allows you to seek and accept positions requiring certification.
Certificate of Eligibility with Advanced Standing (CEAS) – Issued if you have completed a professional teacher preparation program, have a degree, and pass the necessary examinations. Valid for your lifetime, the CEAS also allows you to seek and accept positions requiring certification.

Legalizing employment/induction

Provisional Certificate – Issued if you hold a CE or CEAS and are employed in a New Jersey school in which you are also enrolled in an induction/residency program. Valid for two years.

Permanent/standard certification

Standard Certificate – Issued when you meet all certification requirements including education, examination, experience, and residency/induction period.
Click here for a listing of all teaching certification endorsements, codes and requirements.
Examinations
For a brief overview of New Jersey's teacher testing requirements, visit the Praxis website.
Basic skills testing:
Before you enroll in a teacher preparation program, you may be asked to pass the Praxis I Basic Skills Exam in reading, writing and mathematics.
As a candidate for initial teacher certification in New Jersey you must also pass an examination in hygiene, physiology, and substance abuse, or to be exempt from this examination, prove that you've completed college studies in biology, health, or nutrition.
Content area assessment testing:
Prospective teachers in New Jersey must pass the Praxis II examination applicable to their intended certification area. Passing scores vary based upon your GPA. Click here for more details. Certification areas for which examinations are offered include:
Preschool-Grade 3
Elementary K-5
Elementary School with Subject Matter Preparation:

Language Arts Literacy (Grades 5-8)
Mathematics (Grades 5-8)
Science (Grades 5-8)
Social Studies (Grades 5-8)

Secondary Education:

Science, Biology
Science, Chemistry
Science, Earth Science
Science, Physical Science
Science, Physics
Social Studies
Speech Arts and Dramatics
Theatre

All Grades:

Art
English
Health & Physical Education
Mathematics
Music
Physical Education
Reading

World Languages:
Career and Technical Education:

Business Education
Family and Consumer Sciences
Industrial Technology
Marketing Education
Technology Education
Career and Technical Education
Experience Requirements
During your teacher preparation program, the practical aspects of teaching are stressed in college coursework, as much as is theory and general knowledge. You will enroll in a practicum as part of education classes, which will mainly involve the observation of teaching in practice, as well as a bit of participation on your part, as you may have the opportunity to engage the class and lead lessons under the supervision of the host teacher.
After the completion of the academic component of your teacher preparation program, you will engage in a student teaching assignment, in which you will take over teaching responsibilities in a classroom tailored to your intended area of certification and grade level. You will learn and use classroom management skills and teaching strategies, assess the behavior of students as necessary, and work with students in both group and independent activities. Your performance will be evaluated by the regular classroom teacher and by an official from your teacher preperation program.
Document and Application Requirements
Once you have met all of the above requirements, you may apply online for New Jersey teacher certification. You must pay all application fees online by credit card. Make sure to attach all of the following items to your online application, or mail them to the Department:
Program Verification Form (if you attended an out-of-state teacher preparation program)
Official college transcripts showing conferral of a degree and your GPA
Credential evaluation (if you attended school in a foreign country)
Verification of employment (if necessary)
Signed and notarized Oath of Office/Verification of Accuracy form
Have Praxis score reports sent to the Department
Mail the above supporting documentation to State of New Jersey Department of Education, Office of Licensure & Credentials, P.O. Box 500 Trenton, NJ 08625-0500.
You may check the status of your submitted application online anytime by clicking here.
Criminal History Background Check
Although you do not have to submit to a criminal history background check as part of the New Jersey teacher certification process, you will have to undergo this check before any New Jersey school will hire you. You will be given instructions on the process when you apply for a position, and then initiate the process here.
Your fingerprints will be run through both the New Jersey State Police (NJSP) and the Federal Bureau of Investigation (FBI). Results will be reported to the Department of Education, who will then notify the school district with which you are pursuing employment.
Contact Information
Request more information from New Jersey teacher preparation programs, by contacting them directly.
For more information on teacher certification in New Jersey, contact the Office of Licensure & Credentials at 609-292-2070.
*2019 U.S. Bureau of Labor Statistics data – Conditions in your area may vary.
**Teacher Retention Sources – U.S. Department of Education, National Center for Education, Statistics Schools and Staffing Survey, 1999–2000 ("Public School Teacher Questionnaire," "Private School Teacher Questionnaire," and "Public Charter School Teacher Questionnaire"),
and 2000–01 Teacher Follow-up Survey ("Questionnaire for Current Teachers" and "Questionnaire for Former Teachers," Table 1.01). Washington, DC.
State estimations based on analysis by Richard Ingersoll, Professor of Education and Sociology, University of Pennsylvania, from the National Center for Education Statistics Student and Staffing Survey, and therefore include a slight margin of error.