Michigan Teaching Certification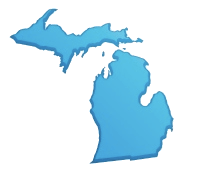 Michigan Ed. Statistics
| | |
| --- | --- |
| Avg. Elem. Teacher Salary* | $69,050 |
| Avg. Sec. Teacher Salary* | $63,000 |
| Avg. Admin. Salary* | $94,020 |
| Teacher Retention (?) | 96% |
| Vacation Wks/Yr | 15 |
Learn how to become a teacher in Michigan (or administrator). Choose the description of certification you are most interested in or situation that best describes you:
Getting Involved…
Investing in our future is vitally important and strangely difficult. In order to fight oppression from the greedy and power-hungry elite, to better our ways of life with advancing technology, and to increase our country's overall views toward the concept of acceptance, we need education to be a priority. Learn how you can be a spoke in this terribly important wheel. See how Michigan measures up to the rest of the country by viewing the percentage of state revenue going toward education in each state. (see State Education Spending vs. Overall State Revenue).

Learn About Your Governor's Track Record


Give Your Knowledge Power By Voting

Hold your public servants accountable. It is our duty as residents of Alabama.
Help Make Education A Priority
Initial Michigan Teaching Certification
Some school districts in Michigan are supplying teachers with iPads and other technological education aides as part of an initiative to incorporate technology in the classroom in an effort to improve the effectiveness of lessons and streamline the organization of teaching materials. The iPads, which work well in conjunction with existing classroom Smartboards, are expected to help teachers develop and organize lesson plans, access student grades remotely, take and organize notes during assessments, present information to parents during conferences, and much more. Find schools offering teaching certification programs in Michigan.
Education Requirements
<!- mfunc feat_school ->
Featured Programs:
Sponsored School(s)
<!- /mfunc feat_school ->
The Michigan Department of Education (517-373-6791) requires the completion of a bachelor's degree program, at minimum, from a state-approved teacher preparation program in order to be eligible for a teaching certificate.
If you attended a teacher preparation program in another state, the Michigan Department of Education will recognize your credentials as long as that teacher preparation program is recognized for certification purposes by the Department of Education in that state.
If you attended college in a foreign country, the Michigan Department of Education reserves the right to request a course-by-course evaluation of your credentials at the time of your online application for certification.
Certification Options
Various types of teaching certificates are issued by the Michigan Department of Education based upon your qualifications. They include:
Provisional Certificate is the initial teaching certificate in Michigan, issued to those meeting educational and examination qualifications. Valid for six years.
Two-Year Extended Provisional Certificate is issued if you do not meet the requirements for a Provisional Certificate, but do have teaching experience, are currently employed by a Michigan school district, and are enrolled in a Michigan teacher preparation program. Valid for two years.
Professional Education Certificate is the advanced teaching certificate, issued when you meet advanced degree/educational and experience requirements. Valid for five years.
Interim Teaching Certificate is issued to applicants with a bachelor's degree who are enrolled in an alternative teacher certification program.
Certificates may be at the elementary level (valid for teaching all subjects in grades K-5, all subjects K-8 in a self-contained classroom, and for subject area endorsements listed on the certificate in grades 6-8) or secondary level (valid for teaching the subject area endorsements listed on the certificate in grades 6-12).
Examinations
The Michigan Department of Education uses the Michigan Tests for Teacher Certification (MTTC) to assess applicants for teaching certificates.
Basic skills testing:
Candidates for a Provisional Teaching Certificate must pass the MTTC Basic Skills test in reading, writing and mathematics.
Content area assessment testing:
If you are a prospective teacher who wishes to receive an endorsement for any of the following subject areas on your Michigan Provisional Teaching Certificate, you must pass the corresponding MTTC tests:
Early Childhood Education
Elementary Education
Middle Level
Communication Arts
Language Arts

English
Journalism
Speech
Reading Specialist
Reading

Social Studies

Economics
Geography
History
Political Science

Social Science
Science

Biology
Chemistry
Physics
Earth/Space Science
Integrated Science
Physical Science

Humanities

Academic Study of Religion
Philosophy

Mathematics
World Language & Culture

French
German
Greek
Latin
Russian
Spanish
Other
Italian
Polish
Hebrew
Arabic (Modern Standard)
Japanese
Anishinaabemowin Language and Culture
Chinese (Mandarin)
American Sign Language

Bilingual Education

Bilingual French
Bilingual German
Bilingual Greek
Bilingual Russian
Bilingual Spanish
Bilingual Italian
Bilingual Polish
Bilingual Hebrew
Bilingual Arabic
Bilingual Other
Bilingual Vietnamese
Bilingual Korean
Bilingual Serbo-Croatian/Bosnian
Bilingual Chaldean
Bilingual Chinese
Bilingual Filipino
Bilingual Japanese

Business Education

Business, Management, Marketing and Technology
Marketing Education

Agriscience and Natural Resources
Industrial Technology
Music Education
Family and Consumer Sciences
Visual Arts Education
Visual Arts Education Specialist
Health, Physical Education, Recreation & Dance

Health
Physical Education
Recreation
Dance

Fine Arts
Special Education

Cognitive Impairment
Speech and Language Impairment
Physical or Other Health Impairment
Emotional Impairment
Visual Impairment
Hearing Impairment
Learning Disabilities
Physical Education for Students with Disabilities
Autism Spectrum Disorder

Technology and Design
Miscellaneous

Educational Technology
Computer Science
English as a Second Language
Experience Requirements
During your Michigan teacher preparation program, you will gain much experience that will be vital to you in your teaching career. First comes a practicum, which takes place while you are completing your college courses. Here, you will observe a classroom specific to the grade level and/or subject you are to be certified in, and may even be asked to lead a lesson or two. This practicum is much like a regular college course, in that it consists mainly of observation, although participation will also be a significant component.
After you complete your academic courses but just prior to graduation, you will participate in a student teaching assignment. You will be assigned to the classroom grade level and subject in which you hope to become certified. The length of this assignment will vary from one teacher preparation program to the next. During this student teaching experience, you will take charge of a classroom, under the observation and supervision of the classroom teacher-of-record. You may be asked to prepare lesson plans, direct the class, and help the teacher with daily classroom duties. At the end of your student teaching experience, you will be evaluated, most likely by both the classroom teacher-of-record and a certification officer from your college's teacher preparation program.
Document and Application Requirements
Have you completed all educational requirements, passed the necessary MTTC examinations, and fulfilled both the practicum and student teaching portions of the experience requirement? If so, you are ready to apply for Michigan teaching certification. The Michigan Department of Education requires all applicants for Provisional Teaching Certification to apply through the Michigan Online Education Certification System (MOECS). Once you input your information, your online application will be forwarded to your Michigan college/university teacher preparation program for its review approval. With this system, you must pay all application fees online via credit card only.
After all of your information has been reviewed, verified and approved, the Michigan Department of Education, Office of Professional Preparation Services will issue your hard copy Provisional Teaching Certificate. This will be mailed to the address you supplied on the online application within 7 to 14 days.
Criminal History Background Check
While a criminal history background check is not necessary in order to receive a Michigan Provisional Teaching Certificate, it is required before you are allowed to work with children in the state. The Michigan State Police and the Federal Bureau of Investigation will conduct a criminal records check once you are hired by a school district. They utilize the electronic LiveScan fingerprinting locations to conduct these background checks. You are responsible for paying all associated fees. Once the criminal history check has been conducted by the MSP, a report will be sent to the Michigan Department of Education, who will, in turn, notify the school district to which you have applied for employment. You will not be authorized to teach in any Michigan school before a clear report is received by the district.
Contact Information
If you need more information on approved teacher preparation programs in Michigan, contact the Certification Officer at the institution that interests you.
For more information on the certification process in Michigan, contact the Michigan Department of Education Office of Professional Preparation Services at 517-373-6791 or 517-373-3310.
*2019 U.S. Bureau of Labor Statistics data – Conditions in your area may vary.
**Teacher Retention Sources – U.S. Department of Education, National Center for Education, Statistics Schools and Staffing Survey, 1999–2000 ("Public School Teacher Questionnaire," "Private School Teacher Questionnaire," and "Public Charter School Teacher Questionnaire"),
and 2000–01 Teacher Follow-up Survey ("Questionnaire for Current Teachers" and "Questionnaire for Former Teachers," Table 1.01). Washington, DC.
State estimations based on analysis by Richard Ingersoll, Professor of Education and Sociology, University of Pennsylvania, from the National Center for Education Statistics Student and Staffing Survey, and therefore include a slight margin of error.