Journalism Teacher Certification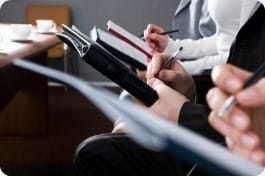 From mundane topics like the weather to the groundbreaking investigations such as uncovering a government conspiracy, a journalist's work is never done. Journalism is the investigation and reporting of events, issues, and trends for a broad audience. Journalists' work help shape policies and opinions, enable debates and discussion, and keep the general public aware of what's happening in the world around them.
Journalists often claim that investigation and reporting is in their blood. The reality, however, is that someone had to foster a love for writing, help develop critical thinking skills, and show them the best ways to get the information they seek at an early age. Certified journalism teachers are instrumental in molding future journalists, teaching students essential industry skills such as researching, interviewing, writing, and editing, among others. A robust secondary education in the fundamentals of journalism can inspire a lifelong passion for creating informative or opinion-based stories in words, pictures, or video.
What is a certified journalism teacher?
Journalism certification programs are offered as a professional development opportunity for scholastic journalism teachers and advisers. Certification recognizes proficiency in areas directly connected to scholastic journalism and has two levels, Certified Journalism Educator (CJE) and Master Journalism Educator (MJE).
Career options for journalism students
Successful journalism teachers can lead their students to begin careers as:
Bloggers
Public relations specialists
Publishers
Broadcast journalists
Technical writers
News reporters
Magazine journalists
Editors
A certified journalism teacher exhibits expert-level knowledge of the industry's history and best practices, enabling them to effectively help shape the careers and livelihood of the next generation of journalists. Obtaining an advanced certification in journalism enables prospective teachers to effectively plan and execute course curriculums to help students develop essential skills such as writing, interviewing, and researching to launch their careers in the various aspects of journalism.
Through certification, teachers learn to apply knowledge of the historical development of journalism, the role of mass media in society, and the evaluative skills needed to be a critical consumer of mass media. More importantly, their professional credentials help them understand how best to transfer their knowledge in the classroom through assignments, lectures, and hands-on activities.
Certification is a critical step in a teacher's career. All states require at minimum a bachelor's degree in order to teach. However, some states require a specific certification in journalism to teach the subject, while others may require a bachelor's degree in journalism and a certification in education to teach. Teachers will want to familiarize themselves with the requirements for the state in which they want to teach (see teacher certification requirements).
<!- mfunc feat_school ->
Featured Programs:
Sponsored School(s)
<!- /mfunc feat_school ->
What do journalism teachers have to know?
Journalism is a complex, multifaceted industry with changing rules, practices, and platforms. Certified journalism teachers play an important role in helping students understand and explore the various aspects of the profession, ranging from content development to copyright standards to information gathering and evaluation.
FAQ's about the Pulitzer Prize for Journalists
Pulitzer Prize for journalism comprises 14 categories that include various writing and photography disciplines
Awards have honored excellence in writing and reporting since 1917
First winner was Herbert Bayard Swope of New York World for articles entitled "Inside the German Empire."
$50 entry fee for journalism and photojournalism pieces to be considered by 103-member selection panel.
Awards announced annually in April.
Information is the heart and soul of journalism. Prospective teachers must be able to engage students in activities in and out of the classroom that challenges their abilities to gather and process information to produce journalistic pieces such as articles, photojournals, and broadcast reports. Teachers can easily pair students up in class to have them practice their interviewing skills, grading them on their initial and probing questions, as well as the quality of their notes.
Sometimes direct sources aren't available, so journalists must be able to find other methods for collecting information and understand how to evaluate its credibility. To teach essential research and analysis skills, a teacher may select several important historical events and have students compile research about the event to generate a story. Students can compare and contrast notes, identifying conflicting information and using critical analysis to determine the most valid information, and work together to draft the story according to the teacher's preferred style.
While content development is a prime objective, the changing media landscape also presents new legal and ethical challenges. Prospective teachers must exhibit a thorough understanding of the legal and ethical principles of journalism, including statutes and regulations that evolve with changing technology. With the advent of social media, e-readers, and other digital technologies, legal and ethical lines can be easily blurred. Copyrighted digital content can be purposely or inadvertently lifted from its original author and used to build a story, exposing a journalist to charges of intentional or unintentional plagiarism and copyright infringement, among other risks.
Similarly, new digital platforms provide more efficient means for reaching larger audiences. At the same time, journalists need to be careful about how they reference or quote an individual or organizational representative in the public domain. Using social media and other platforms may leave a journalist exposed to potential lawsuits for breaching various regulations of digital technologies. Certified teachers must stay on top of technological developments in journalism through continuing education workshops and research on their own time to be able to explain to students how they impact a journalist's legal and ethical obligations.
Becoming a master of writing
The certification process for journalism teachers is intensive and designed to prepare prospective teachers for success in the classroom—both theirs and their students'.
During certification, teachers are immersed in a comprehensive, intensive curriculum focusing on key principles of journalism education. Through certification, prospective teachers are expected to achieve mastery over the writing process as it relates to journalism. Teachers learn to develop programs and activities that guide students through brainstorming, questioning, reporting, gathering and synthesizing information, writing, editing, and evaluating media products.
For example, a journalism teacher can get involved in student-run publications such as a school newspaper or online magazine to offer hands-on lessons in the journalistic process. Using popular publications such as well-known and widely distributed newspapers as models, teachers can structure the student staff to mirror a newsroom, complete with an editor-in-chief, staff writers, and layout specialists. Students determine content development and publication processes, deadlines, learn about cross-functional areas of newspaper operations, and can rely on the teacher as a consultant for accomplishing their objectives.
For a more thorough experience, a teacher may choose to assign specific tasks to students with a strong interest in a particular area of journalism such as photography or page design. Students may be tasked with shooting and compositing accompanying images for the story, explaining the process they went through for scouting, shooting, and developing images as well as why they add value to the story. At the same time, students will need to familiarize themselves with industry-standard photography, credit, and use guidelines. Students must thoroughly research and internalize the rules prior to entering the field, helping solidify the intent of the assignment.
A whole new world
Since the 21st century classroom does not end at the classroom door, teachers pursuing certification also learn the importance and impact that social media has in modern journalism. Teachers are expected to be intimately familiar with topics such as using social media for augmented content distribution, audience engagement, and First Amendment rights scenarios.
Many schools won't have a formal policy or program in place for leveraging social media to promote school events or provide updates to parents. Certified journalism teachers are skilled in developing policies that enable schools to use emerging technologies for their benefit.
Teachers can take the lead on establishing social media policies, involving their students in the process by having them develop different parts of the document and helping them learn how to apply specific digital media regulations in a real-life scenario. Interactive assignments and hands-on learning teaches two important lessons for modern journalism: encouraging the use of technology in and out of the classroom while respecting First Amendment rights.
Certified journalism teachers can have a tremendous impact on the future careers of aspiring journalists. Learning the fundamentals of journalistic principles and practices frees students to explore their creative ambitions, whether its investigating corruption, snapping photos of decaying cities, or interviewing celebrities. Whatever the path, it all starts at the beginning with the time spent in the classroom with their teacher.
Getting certified
The process for certification varies by state. States require prospective teachers to either earn a bachelor's degree in education and a specific certification in journalism, which is usually included as part of the program of study. Conversely, prospective teachers in states not requiring a journalism certification must earn a bachelor's degree in journalism and then a certification in education to be able to teach.
Learn more about teacher certification in your state here.
For states requiring a journalism certification, prospective teachers have several options. They can choose the state-approved certification program offered through a university or pursue a nationally recognized certification, such as the one offered through the Journalism Education Association.
JEA and other certification programs recognize teachers who have gained knowledge through experience and self-study or from attending convention sessions or non-credit workshops. Certification demonstrates that teachers are qualified to teach journalism and validate the credibility of their experiences and academic histories and provide tangible evidence of qualifications to remain in journalism education.
Protecting confidential information
Unlike lawyers and doctors who are protected by confidentiality regulations, journalists are only entitled to limited protection of privacy regarding sources. Confidentiality is an extension of freedom of the press, an article of the First Amendment of the United States Constitution that gives journalists a legal protection to keep the identity of a confidential informant private even when demanded by police or prosecutors.
However, in the United States, there is no right to protect sources in a federal court. Courts are generally reluctant to compel journalists to reveal their sources unless a journalist's source has pertinent information to a case that cannot be ascertained any other way. In such cases, failure to comply with court orders can land a journalist in jail for contempt of court.
Journalists must walk a fine line between protecting the identity of their sources and complying with law enforcement and judicial orders. Protecting source identities preserves the sources for future use; complying judicial orders preserves the journalist to continue doing his or her job.