Arkansas Teaching Certification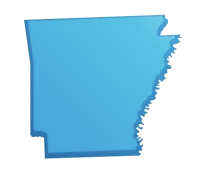 Arkansas Ed. Statistics
| | |
| --- | --- |
| Avg. Elem. Teacher Salary* | $48,800 |
| Avg. Sec. Teacher Salary* | $51,870 |
| Avg. Admin. Salary* | $80,090 |
| Teacher Retention (?) | 95% |
| Vacation Wks/Yr | 15 |
Learn how to become a teacher in Arkansas (or administrator). Choose the description of certification you are most interested in or situation that best describes you:
Getting Involved…
Investing in our future is vitally important and strangely difficult. In order to fight oppression from the greedy and power-hungry elite, to better our ways of life with advancing technology, and to increase our country's overall views toward the concept of acceptance, we need education to be a priority. Learn how you can be a spoke in this terribly important wheel. See how arkansas measures up to the rest of the country by viewing the percentage of state revenue going toward education in each state. (see State Education Spending vs. Overall State Revenue).

Learn About Your Governor's Track Record

Give Your Knowledge Power By Voting
Hold your public servants accountable. It is our duty as residents of Arkansas.
Help Make Education A Priority
Initial Arkansas Teaching Certification
The Arkansas Board of Education voted in 2010 to adopt the Common Core State Standards Initiative, a set of learning expectations for all students that has already been adopted by 42 other states. It is expected that adopting the Common Core will help produce Arkansas students who ultimately graduate with the real world knowledge and technological skills necessary to be successful in the global economy. Licensed teachers are needed in Arkansas to implement this plan in a concerted effort to help prepare students for college and the careers that follow.
Education Requirements
<!- mfunc feat_school ->
Featured Programs:
Sponsored School(s)
<!- /mfunc feat_school ->
The Arkansas Department of Education's Professional Licensure Department (phone (501) 682-4342) licenses teachers in the following grade/age levels (find schools offering teaching certification programs in Arkansas):
Early Childhood (Preschool-4th Grade)
Preschool/Early Adolescence (Preschool-8th Grade)
Preschool/Young Adulthood (Preschool-12th Grade)
Middle Childhood/Early Adolescence (Grades 4-8)
Adolescence/Young Adulthood (Grades 7-12)
There are many areas of content specific licensure within each of these levels that teachers may be licensed in as well.
The Arkansas Department of Education mandates that all teachers have a minimum of a bachelor's degree for initial licensure. Prospective teachers must also complete an educator preparation program at an approved Arkansas college or university. Most of these programs are at the bachelor's degree level, while some offer graduate degrees.
Applicants may also be graduates of an approved Arkansas Alternate Route Master's Degree Program for Teacher Licensure. These programs lead to a master's degree in teaching and initial teacher licensure.
If you wish to become licensed in Early Childhood Education, Middle School or Secondary Social Studies, you must also complete a three credit hour course in Arkansas history.
Did you complete an educator preparation program outside of Arkansas? You may still qualify for initial teacher licensure if your educator preparation program is regionally or nationally accredited.
Teacher licensure competency areas and the expectations for each area may be found here.
Examinations
Basic Skills testing
An overview of Arkansas testing requirements may be found on the Praxis website.
The Arkansas Department of Education requires all teachers to pass the Praxis I basic skills tests in Reading, writing and math. For initial licensure, you must receive a score of 172 on the reading test, 173 on the writing test, and 171 on the math test. The Praxis I is generally taken while enrolled in, or near the completion of, your teacher preparation program.
Content area assessment testing
Initial teacher license candidates must also pass the Praxis II test, which tests your knowledge in the specific content area in which you wish to become licensed. This is usually taken during your enrollment in or towards the end of your teacher preparation program. If you wish to become licensed in Early Childhood P-4, All P-4 Teaching Areas, All 4-8 Teaching Areas, Middle School Generalist, or all P-12 Teaching Areas, you will take the test(s) specific to your situation and corresponding college major. If you are a prospective Secondary School teacher, you may become licensed by taking the Praxis II test in the following areas:
Drama
Drama/Speech
English
Life/Earth Science
Mathematics
Physical/Earth Science
Social Studies
Speech
Art (P-12)
Music (Instrumental and Vocal)
Physical Education, Wellness and Leisure
Those who wish to teach English as a Second Language would take the Praxis II test for this specialization. Language tests are also available for those who want to teach:
In addition, new teachers must also pass the Praxis II performance assessment, but only after you are hired. This test, designed for novice teachers, tests performance in your own classroom setting, and is usually taken during the second semester of your first year of teaching. Among other things, your knowledge and practice of Arkansas Standards for Beginning Teachers will be tested during this assessment. Passing the Praxis II is necessary to convert an Initial Teaching License to a Standard Teaching License.
Experience Requirements
As part of your Arkansas teacher preparation program, you will complete a field placement experience. This internship will vary in length depending upon your college or university's policies, and may last from 12 weeks to one school year.
You will be placed in a classroom setting under the direction of a mentor teacher. The classroom in which you work will correspond to your age level and/or content area preference.
This internship provides a valuable opportunity for you to learn while performing actual day-to-day duties of being a teacher, including drawing up lesson plans, leading classes, and assisting in assessments of students.
Additionally, once you receive your Initial Teaching License and have secured a teaching position, you will work under a site-based, trained mentor during your induction period. This period may last from at least one year to at most three years, based upon your performance. When your mentor feels that you are ready to pass the Praxis III exam, it will be scheduled. Upon passing, you will be eligible to convert your Initial license to a Standard Teaching License.
Document and Application Requirements
Once you have satisfied the education, experience and examination requirements and passed the criminal history background check and central registry check (see below), you may apply for your Initial Teaching License using the Application for Educator's License. You will need to submit the following documents along with your completed, signed application:
Official, unopened college transcript documenting completion of a bachelor's degree and of your teacher preparation program
Copies of Praxis score reports, if desired (Praxis exam scores should be automatically forwarded to the Department of Education upon completion)
Notation that your Criminal History Check and Central Registry have been completed and are on file, or are being forwarded to the proper agencies
Application fees
Signature from a supervisor in your teacher preparation program verifying that you have completed the requirements for initial licensure in your area and level
Send the above documents to Professional Licensure, Department of Education, Rooms 106B & 107B, Four Capitol Mall, Little Rock, AR 72201-1071.
If you already hold a teacher's license/certificate in another state or a foreign country, review the requirements to obtain a reciprocal license.
Criminal History Background Check
All teachers in Arkansas must complete a statewide and national criminal background check, conducted by the Arkansas State Police and the Federal Bureau of Investigation, as well as a Child Maltreatment Central Registry check, conducted by the Arkansas Department of Human Services, prior to licensure. Complete the Authorization for Release of Confidential Information Contained Within the Arkansas Child Maltreatment Central Registry and mail it to Arkansas Child Maltreatment Central Registry, P.O. Box 1437, Slot S 566, Little Rock, AR 72203. The Central Registry will complete the form and return it to the Arkansas Department of Education.
Forms for fingerprinting and criminal background checks may be obtained from your college or university, or from the Arkansas Department of Education's Professional Licensure Department. They can also direct you to the proper location to complete the mandatory fingerprinting process. You must complete the forms and return them to the Identification Bureau of the Arkansas State Police, #1 State Police Plaza Drive, Little Rock, AR 72209. Contact them at (501) 618-8500 for more information. All fees associated with the criminal background check are paid by the Department of Education.
Contact Information
Any questions about educator preparation programs in Arkansas may be directed to the Arkansas Educator Licensure Unit.
Questions regarding teacher licensure in Arkansas may be answered by the Office of Professional Licensure of the Arkansas Department of Education at (501) 682-4342 or by visiting the department's website.
* 2019 U.S. Bureau of Labor Statistics data – Conditions in your area may vary.
**Teacher Retention Sources – U.S. Department of Education, National Center for Education, Statistics Schools and Staffing Survey, 1999–2000 ("Public School Teacher Questionnaire," "Private School Teacher Questionnaire," and "Public Charter School Teacher Questionnaire"),
and 2000–01 Teacher Follow-up Survey ("Questionnaire for Current Teachers" and "Questionnaire for Former Teachers," Table 1.01). Washington, DC.
State estimations based on analysis by Richard Ingersoll, Professor of Education and Sociology, University of Pennsylvania, from the National Center for Education Statistics Student and Staffing Survey, and therefore include a slight margin of error.